The light reflective busbar is an important part of the PV module. Raytron is the best light reflective busbar manufacturer in the industry.
Key Features
Improve the light reflectivity of the solar cell surface.
Improve the efficiency of solar modules by 0.2% ~ 0.3%.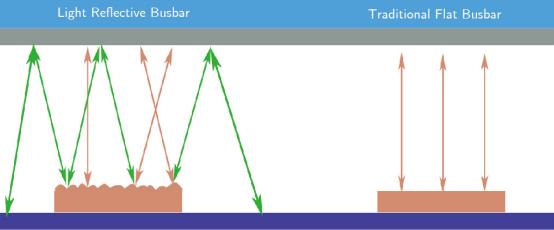 light reflective busbar
Material
ETP-CU
Cu>99.95%
OF-CU
Cu+Ag>99.97%
Dimension
Thickness
0.07~0.5±0.01mm
Width
3-10±0.1mm
Mechanical Properties
Tensile Strength[MPa]
150~270
Elongation[%]
≥25
Yield Strength[MPa]
≤110
Resistivity[Ω*mm2/m]
≤0.024
Camber[mm/1000m]
A8
Coating
Coating Alloy
Sn60Pb40&Sn100
Single Coating Thickness
0.020±0.005mm
Raytron has 10 high precision 4-link rolling mills with an annual capacity of up to 10,000 tons, and as a result, it has become one of the top companies in China in terms of capacity in the field of high precision flat wire and foil rolling, if you need light reflective busbar you can contact us directly, as a supplier of light reflective busbar, Raytron is trustworthy!