As a leading manufacturer in the field of solar busbars, Raytron is dedicated to delivering top-notch products to our customers. Our production facility is located in Shaoxing, Zhejiang, China – an economically developed region with convenient transportation and abundant resources. Equipped with the world's most advanced production equipment and sophisticated manufacturing processes, our factory boasts 10 high-precision four-high mills, with an annual production capacity of up to 10,000 tons. This makes us one of the leading enterprises in China's high-precision flat wire and foil rolling industry, capable of meeting various customized demands from different clients.
Throughout the production process of solar busbars, we strictly control every step to ensure the quality and performance of our products. At Raytron, our production process includes meticulous selection of raw materials, rolling, tin plating, and testing. Each step is carefully executed and monitored by our team of professionals to ensure the stability and consistency of our product quality.
We conduct rigorous screening and testing of raw materials to ensure they meet our quality requirements. Subsequently, we employ advanced continuous casting and rolling techniques to produce various specifications of copper strips that meet industry standards.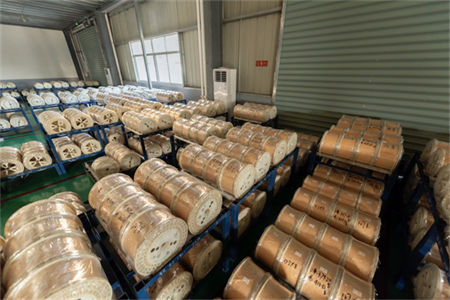 After the production of copper strips is completed, we apply state-of-the-art tin plating technology to uniformly coat the surface of the strips with a layer of tin. This enhances their conductivity and corrosion resistance.
Finally, Raytron conducts comprehensive testing on the entire product, including measurements of dimensions, thickness, hardness, resistance, insulation, and other indicators. This ensures that our products meet national and industry standards.
In addition to solar busbars, Raytron also manufactures tin-plated copper strips, FFC cables, battery tab materials, enamelled flat wires, shielded cables, and more. Our products have been widely used in the fields of photovoltaics, automotive, electrical applications, printed circuit boards, battery energy storage systems, and smart furniture. With our high-quality products and excellent after-sales service, we have received extensive acclaim from our customers. Adhering to the principle of customer-centricity, Raytron not only enjoys a high level of recognition and market share in the domestic market, but also exports a large variety of product components to Southeast Asia, Europe, Africa, the Americas, and other regions.
We always put our customers at the center and prioritize quality as our lifeblood. We continuously strive to improve our product quality and service level, as the assurance of product quality is a prerequisite for long-term cooperation with enterprises and the foundation upon which Raytron thrives!