Welcome to Raytron, your partner in excellence for high precision metal materials manufacturing. We are a passionate and innovative company dedicated to providing high quality, customised metal material solutions to our customers around the world. Whatever your project's metal material needs, however exacting your requirements, we have the capability and experience to meet your needs.
Company History
Raytron was founded in 2012, initially as a small workshop specialising in the research and development of flat wire rolling operations. After ten years of unremitting efforts and continuous innovation, we have developed into one of the leading companies in China for high-precision flat wire and foil rolling products, and become one of the few flat wire rolling companies that can produce flat wires with width-to-thickness ratios of more than 100 times, and one of the drafting units of national standards.
Focus area
For the past ten years, we have been specialising in calendering processes and products. This has enabled us to gain an in-depth understanding of our products and the needs of our downstream application customers, and to continuously improve the quality of our products in order to stand out from our competitors. Our main products include photovoltaic welding tapes, photovoltaic converging tapes, battery lug materials, shielding wires, enamelled flat wires, tinned copper wires, etc., which are widely used in the fields of electronics, communications and energy.
Professional Team
Whether you are a start-up or a Fortune 500 company, Raytron is customer-focused and provides a dedicated team of professionals to provide you with a unique business experience, from model trial production to volume orders. We understand that continuously creating value for our customers is the only way for us to survive, so we value every feedback from our customers and turn it into milestones for our continuous improvement.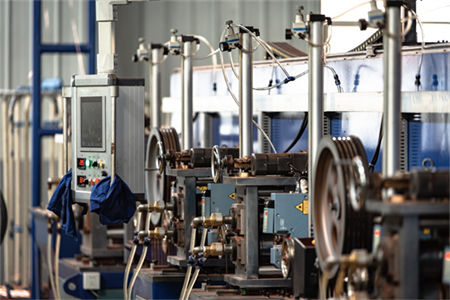 Technology Driven
As a technology-driven company, we pride ourselves not only on our high-precision manufacturing processes, but also on our ability to deliver products with up to 100 times wider aspect ratios. Our state-of-the-art factory has an in-line process control system and is ISO 9001 certified, ensuring the highest quality products for you. We are a national high-tech enterprise in China and hold 26 patents for flat belts and flat wires.
Sustainability
At Raytron, we are not only committed to product excellence, but also to sustainability. We are actively exploring greener manufacturing methods and materials in an effort to reduce our impact on the environment and contribute to a sustainable future.
Why choose Raytron
Raytron is one of the largest manufacturers of pv busbar, calendered copper tape and flat tape wire in China. We have over 10 years of industry experience, superior quality, technology-driven manufacturing processes, a sustainable development philosophy, full support and a dedicated team of professionals. We are committed to providing our customers with the best possible metal material solutions, no matter how complex your needs may be. When you choose Raytron, you're not just choosing materials, you're choosing an exceptional and sustainable partner. Let's work together to create a better future.